Happy November everyone! If you are like everyone else, you are probably in high gear preparing for the holidays! There is so much going on and the holidays will be here before we know it. I'm partnering with some awesome designers and digitizers to participate in the Turkey Trot 2022 – a weeklong shop hop! If you missed the post in the Facebook group, be sure to check it out and learn all about it!
I will have a special FREEBIE available on Friday, November 18th that will post on the website at 6:00am ET and be available all day. After that it will be available for sale, but set your clocks so you don't miss it!! No purchase will be necessary to get it for FREE.
As a reminder, if you ever need help, please fill out the Need Help form on the website.
Gift cards are always available to share with friends and family and I've recently added a few Reward Yourself gift card options allowing you to save money on future purchases!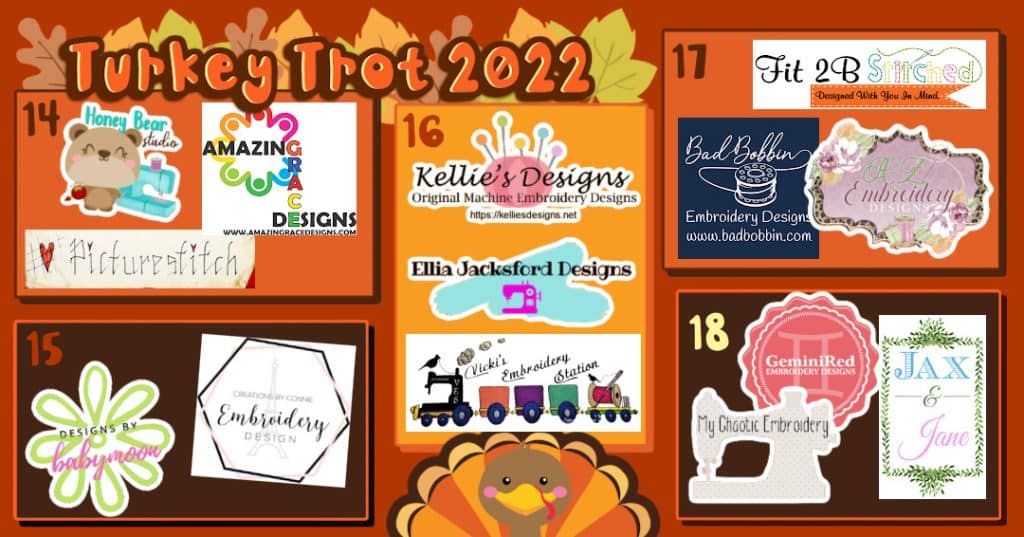 Make sure you don't miss these holiday-themed designs perfect for Thanksgiving and Christmas!

I've added a page on my website that inludes links to some of my favorite suppliers for things like vinyl, fabric and blanks. If you have any suggestions, feel free to share!
If you are looking for a new set of Christmas ornaments, this beautiful set of Christmas Bean Stitch Ornaments from Bella Bleu is so lovely!

Did you know you can earn points for every order you place as well as for every review you leave for a design you purchased? You will also earn points for submitting photos that can be used on the website and social media as well as contributing to the Makers Monday posts. I want to make every interaction you have with me and the business a 'rewarding' one!

I want to share your work with others! On Monday each week I like to put you in the spotlight! If you have embroidered a GeminiRed design, submit it to me and with your permission I will share it on social media to let others see different versions of the designs available. If you provide your social media links, I will tag you or your shop. I will happily endorse your small business if you have one. Besides Makers Monday, I am also looking for new photos for the website.

Upcoming Holidays & Observations
Nov 9 – National Louisiana Day
Nov 10 – National Vanilla Cupcake Day
Nov 11 – National Sundae Day
Nov 11 – Veterans Day
Nov 13 – World Kindness Day
Nov 14 – National Pickle Day
Nov 15 – National Philanthropy Day
Nov 16 – National Educational Support Professionals Day
Nov 18 – National Princess Day
Nov 19 – National Adoption Day
Nov 21 – National Gingerbread Cookie Day
Nov 24 – Thanksgiving
Nov 26 – National Cake Day
Nov 26 – Small Business Saturday
Nov 30 – National Mason Jar Day
Nov 30 – National Mississippi Day
Reminder: Don't forget to check the website for designs that can be added to your embroidery projects to celebrate these special dates.

Keep in touch on Social Media!
If you have not already done so, please "like" and share GeminiRed Embroidery Designs social media pages with friends and family. The Facebook group is a great way to stay in the loop as well as the Creatively Speaking section on the website.
Looking for the inside scoop of what's happening at GeminiRed Embroidery Designs? Sign up for the newsletter to get updates before anyone else. The newsletter will include updates about new designs, specials, website updates, and more.
Join the Facebook group to be part of the GeminiRed Embroidery Designs community!