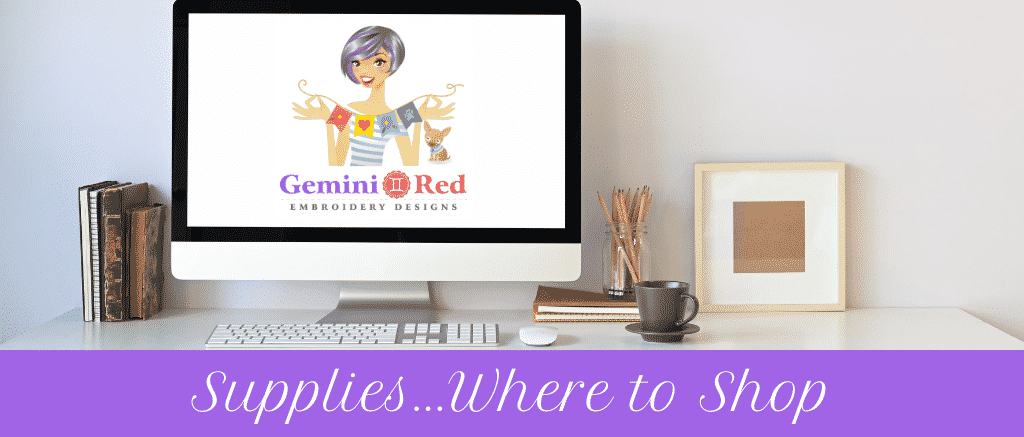 Are you interested in learning more about the supplies I use and where to purchase them? You've come to the right page! Whether you are creating embroidery projects for yourself, as a hobby, or as a small business, finding supplies can be tricky. And finding supplies that are top quality is very important!
Some of the links on this page are affiliate links. If you click through and make a purchase from these links, I may earn a small commission at no extra cost to you. I use these commissions as a way to offer give aways and other things i can do to give back to my customers…so don't be shy, click and shop!
Commissions also allow me to give back to my fellow small business owners when I hear of a need in the small business community.
Looking for recommendations for materials, hardware, and more? Visit my Amazon Influencer page for links to products I use for embroidery and sewing, as well as business supplies, and items for home! I use these supplies for my GeminiRed Creations business as well where I sell finished embroidered and sewn projects!
Need software to merge designs and add monograms? Embrilliance is a great option! You can add modules as needed depending on what you would like to do. I also use their Thumbnailer module that lets you see images of your designs.
Vinyl Suppliers
Looking for vinyl for ITH projects like key fobs? Here are a few of my favorites.
GlitterBugFairy – Shanna has a wide variety of vinyl and other supplies that are perfect for you vinyl projects.
My PunkBroidery – you will love what Amy has to offer in her shop. Lots of colors and patterns to choose from.
Marine Vinyl Fabrics – when I need solid colors, I shop here and order by the yard.
Fabric
I love supporting local shops when I can. There are two in Georgia that you will love!
Stash Fabrics – local to Georgia, but sells online only
The Cotton Farm – they have an adorable shop in Roswell, GA if you have the chance to visit
Blanks
If you are looking for blanks to embroider such as bags, garden flags, and more, here are a few you might like to try!
Fountain of Blanks – my friend Donna carries a wide variety of wonderful blanks from Easter & Halloween baskets to garden flags and more!
Speckled Sparrow Designs &  Destash – Jennifer has items you can embroider as well as blanks for vinyl and she has beautiful stickers you can use for your packaging!
Bunny Blanks – JoJo, a long time customer, has started a business to sell clothing blanks.