Welcome to the GeminiRed Embroidery Designs newsletter! Thank you for signing up for updates and news about what is happening with regard to new designs, specials, and more! If ever need help, please fill out the Need Help form on the website.
Do you have friends or family who love embroidery as much as you do? Gift cards are always the perfect gift!

It can be hard to keep up with new designs being added to the website, posts on social media, and your life in general. Below is a sample of a few of the new designs recently added to the website. There is no set date, day of the week, or time that designs are posted. In an effort to be timely and also work around busy schedules, they will be added to the website when available and ready.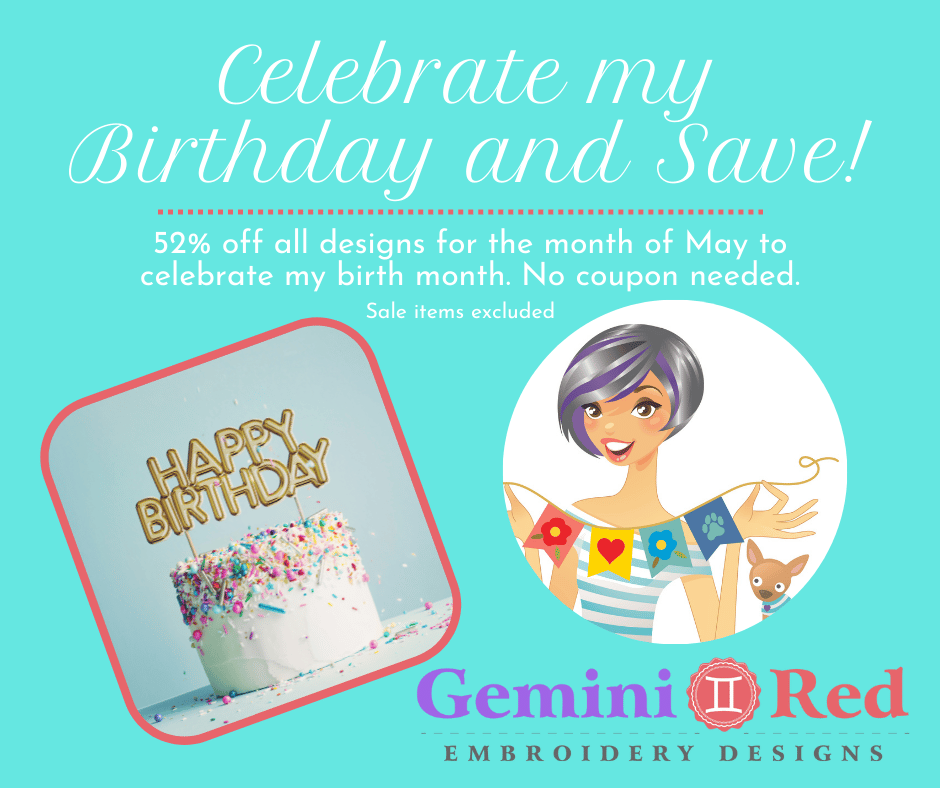 If you missed posts on Facebook or the header on the website, all month long you can save 52% on all designs in celebration of my birthday!!

Did you know you can earn points for every order you place as well as for every review you leave for a design you purchased? You will also earn points for submitting photos that can be used on the website and social media as well as contributing to the Makers Monday posts. I want to make every interaction you have with me and the business a 'rewarding' one!

I want to share your work with others! On Monday each week I like to put you in the spotlight! If you have embroidered a GeminiRed design, submit it to me and with your permission I will share it on social media to let others see different versions of the designs available. If you provide your social media links, I will tag you or your shop. I will happily endorse your small business if you have one. Besides Makers Monday, I am also looking for new photos for the website.

Upcoming Holidays & Observations
May 24 – Brother's Day
May 30 – Memorial Day
May 30 – National Water a Flower Day
May 31 – National Smile Day
May 31 – National Utah Day
June 1 – National Say Something Nice Day
June 3 – National Doughnut Day
June 5 – National Cancer Survivor's Day
June 7 – National Chocolate Ice Cream Day
June 13 – National Sewing Machine Day
June 17 – National Mascot Day
June 18 – National Go Fishing Day
June 19 – Father's Day
June 30 – National Bomb Pop Day
Reminder: Don't forget to check the website for designs that can be added to your embroidery projects to celebrate these special dates.

Keep in touch on Social Media!
If you have not already done so, please "like" and share GeminiRed Embroidery Designs social media pages with friends and family. The Facebook group is a great way to stay in the loop as well as the Creatively Speaking section on the website.