My mom (Donna) and me in downtown Savannah, GA.
Thank you for supporting GeminiRed Embroidery Designs, formerly Baby Kay's Appliqués.
I am extremely blessed that I met Teresa, the owner of Baby Kay's Appliqués a few years ago via Facebook when she posted a question in a group we both were members of. When my mom and I took a trip to Laurel, MS we were able to meet in person and enjoyed lunch at a local place. Teresa is every bit a wonderful in person as she is online.
Fast foward and Teresa was given the opportunity to work full-time teaching, which she loves. Her passion for teaching her students is evident in all she does. When she decided it was time to look at selling Baby Kay's Appliqués, I immediately raised my hand for the opportunity. Not only do I admire Teresa and the business she built, I have loved the embroidery designs she created and I have used them often!
We both kicked off 2022 going in directions we had not previously realized would be possible. It has been exciting getting to know the customers through the Facebook group and building relationships. I look forward to many years of working toward making what is now GeminiRed Embroidery Designs into something both Teresa and I can be proud of, because I wouldn't have this opportunity if she hadn't trusted me with her "baby."
Besides GeminiRed Embroidery Designs, I am also the owner of GeminiRed Creations and GeminiRed Virtual Services. I enjoy being a small business owner and also supporting other small business owners! My mom, our dog Reba and I live in Rincon, GA where we moved in January 2021 after 16 years near Atlanta, GA. After a year of doing chores around the new (to us) house to make it feel like home, we look forward to finding time to explore our new area and the surrounding citiies and states that are close by.
I hope you enjoy the designs that were beautifully created by Teresa for Baby Kay's Appliqués. Once I settle in to this new role, I will start looking at options for adding new designs that will compliment those already in the shop.
~heather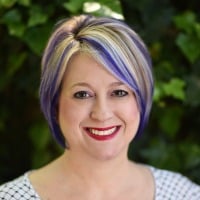 Hello, I'm Heather!
I've been a small business owner in one form or another since I was 11 years old when I started my first business by creating business cards out of index cards to pass out in my neighborhood offering babysitting services. At that time I also took over the paper route in the condo complex where we lived and this was my first go with having two jobs!
I was always creative, doing cross stitch, hand embroidery, basket weaving and more. If anyone asked to purchase something I made I never hesitated. If I had an opportunity to be creative and make money, I was in 100%. So it seemed natural when I started sewing again in my 20s and then started doing machine embroidery.
I love being able to make things for myself, friends, family, and customers. And now I'm blessed to be able to offer designs that others can use to put their creativity to work.
~heather
Contact Me