My mom (Donna) and me in downtown Savannah, GA.
First, thank you for visiting our website and supporting GeminiRed Embroidery Designs. Whether you are new here, or have shopped here for a long time, a lot has happened sine January 2022.
Many years ago I was a customer of Baby Kay's Appliqués, spending quite a bit of time and money on the beautiful designs offered by Teresa. In January 2022 when she expressed interest in closing the shop or finding someone to take over, I reached out because I simply couldn't watch another small business close.
I completely updated the look of the website and changed the name and have slowly updated listings, photos, and other information. I never intended on owning an embroidery design business, but since that first decision in January 2022 to take over Baby Kay's Appliqués, I have since added two other designer's/digitizer's catalogs to the website along with adding many of my own new designs. In May 2022, I added Baby Appliqués (a small catalog of around 300 designs) and in September 2022 I add Pink Aviator's catalog (approximately 1,00 designs).
Besides GeminiRed Embroidery Designs, I am also the owner of GeminiRed Creations and GeminiRed Virtual Services. I enjoy being a small business owner and also supporting other small business owners! My mom, our dog Reba and I live in Rincon, GA where we moved in January 2021 after 16 years near Atlanta, GA. After a lot of time doing chores around the new (to us) house to make it feel like home, we look forward to finding time to explore our new area and the surrounding cities and states that are close by.
I hope you enjoy all the designs that can be found on the website and look forward to creating new things for you for years to come!
If you ever need assistance, please fill out the Need Help form and join the Facebook group to get the inside scoop!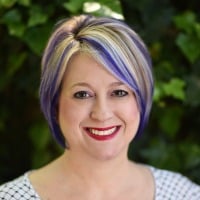 Hello, I'm Heather!
I've been a small business owner in one form or another since I was 11 years old when I started my first business by creating business cards out of index cards to pass out in my neighborhood offering babysitting services. At that time I also took over the paper route in the condo complex where we lived and this was my first go with having two jobs!
I was always creative, doing cross stitch, hand embroidery, basket weaving and more. If anyone asked to purchase something I made I never hesitated. If I had an opportunity to be creative and make money, I was in 100%. So it seemed natural when I started sewing again in my 20s and then started doing machine embroidery.
I love being able to make things for myself, friends, family, and customers. And now I'm blessed to be able to offer designs that others can use to put their creativity to work.